Surf Club Four Seasons Residences
9001 Collins Ave / Surfside, FL 33154
Area

Surfside

Type

Condo-Hotel

Location

Waterfront

Year Built

2016
Surf Club Four Seasons Private Residences
Surf Club Four Seasons Private Residences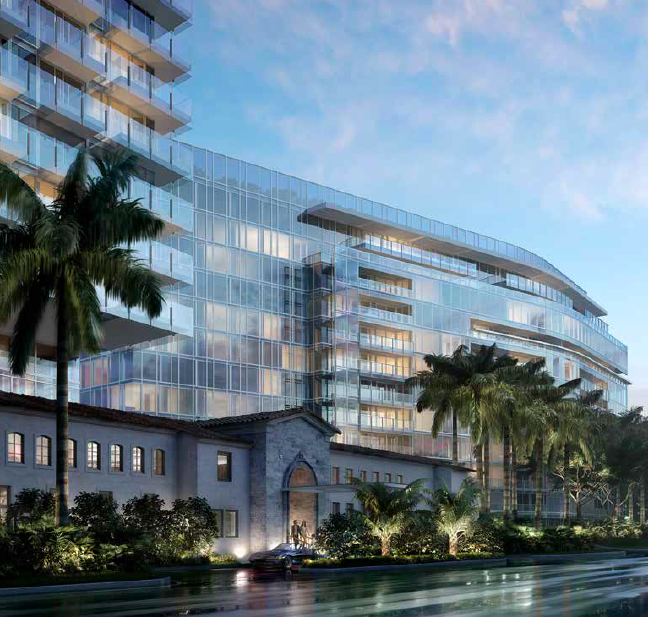 Set on eight acres of pristine Atlantic oceanfront on Miami Beach immediately south of Bal Harbour, The Surf Club Hotel & Residences, 9011 Collins in Surfside combines the elegant architecture of Pritzker Prize-winner Richard Meier with a unique provenance and Thirties history. The result – two 12-story residential buildings comprising 150 homes situated between the ocean and the bay, flanking an intimate Four Seasons five-star hotel – offers buyers the opportunity to live in today's vibrant Miami Beach and enjoy the low-key elegance of a more gracious age.
Since its inception as a private social club in 1930, The Surf Club has played an important role in the cultural history of Miami Beach as a nexus for the most exceptional personalities of the era -- from scions of industrial fortunes to the Duke and Duchess of Windsor, Winston Churchill, Frank Sinatra and Elizabeth Taylor. The original club's historical landmark structure, a Russell Pancoast-designed Mediterranean villa replete with ballrooms, bathing cabanas and legendary Peacock Alley loggia, will be preserved within Meier's new architectural design.
With almost 50 unique configurations within the 150 residences, homes at The Surf Club have been meticulously designed to anticipate the needs of any lifestyle. Richard Meier's innovation and commitment to excellence is reflected in his work on the exterior and interior architecture of The Surf Club Residences. Each home offers capacious living space and thoughtful features, with select homes that include private swimming pools, private elevator entries, interior tranquil gardens, ample designated parking and staff quarters. Every residence features a seamless integration of the indoor and outdoor living experience, making it possible to enjoy the natural beauty of South Florida while preserving residents' privacy. With views stretching from Biscayne Bay to the Atlantic Ocean, each home is set against the ever-changing and luminous backdrop of a vast sky and expanse of blue water.
The Surf Club is pleased to incorporate features that make the experience luxe and convivial. A sumptuous spa is integrated into the property, offering a broad spectrum of wellness, beauty and fitness experiences. Two noted restaurants – one casual, one for fine dining – are on site. A lush garden with gracefully designed landscaping spans the area between the property and the ocean, and an on-site international concierge for residents will be available around-the-clock to insure that any need is met swiftly and easily.
Richard Meier Signature Penthouses
Atop the Surf Club Richard Meier has created 13 signature penthouses: five two-story and eight one-story waterfront structures offer original features and extensive private outdoor spaces, including:
• Personal consultation with Richard Meier to design and customize
• Landscaped rooftop terraces customized w/ outdoor kitchen, pool, rooftop cabana, landscaped garden, outdoor shower
• Ocean-to Bay master suites w/ sitting room, 2 master bathrooms and 2 customized dressing rooms w/ closet systems
• Dedicated private beach cabana
• Up to 20-foot double-height, oceanfront living rooms; ample wall space for installation of art
• Sculptural interior staircases, many with skylights
• Gallery foyers w/ a gracious entrance with a beautiful volume of space, and water view
• Richard Meier selected finishes, materials, palette, hardware and interior details
• Separate service entrance, service stairs and staff quarters w/ private baths
• All bedrooms feature en-suite bathrooms; expansive master bathrooms w/ sculptural bathtubs
• Oversize chef 's kitchens w/ custom cabinetry, side-by- side refrigerator & wine storage, 6-burner gas cooktop, true exhaust kitchen hood, dishwashers, and back-up power for cold storage
• Ultra-high-speed wi-fi connectivity for video conferencing & integrated media systems
• Solid hardwood interior doors; sound attenuating concrete party walls
• Multi-zone climate control systems; automatic shades integrated into glazing system
Private residences are delivered fully finished and ready to move in. Estimated completion date: second quarter of 2016. Maintenance fees approximately $1.35 per sf for private residences; $1.45 per sf for hotel residences. Deposit Schedule: 50% at signing; 50% balance at closing.
Features (included in maintenance):
•Designated Director of Residences; Designated Four Seasons Residential Concierge
•Doorman & bellman services; security patrols; secured residential floor access
•Pool & Beach Services ( yes, towels and umbrellas are part of service)
•Fitness Centers
•Refrigerated delivery holding area
•Wi-Fi in common areas
•Exterior window cleaning; balcony cleaning & maintenance of sliding doors; air-conditioning filter change & inspection
•24-hour on-call emergency repair
A La Carte Services
•On-demand car service to and from airport
•In-residence dining and event catering
•In residence spa services
•In residence laundry and valet services
•Grocery provisioning
•Business Center assistance
•Residence maintenance and repair services
•Housekeeping Services
•Butler Services
•Personal trainers
•Dog grooming
Additional Property Amenities include:
•Four Seasons Hotel with 77 guest rooms
•Intimate Churchill Bar
•Four Seasons Restaurant with Oceanfront Terrace
•Cabanas
•Two Residents-only Fitness Centers in addition to a third Four Seasons Hotel Fitness Center
•Kids Center
•Four Heated Swimming Pools surrounded by private beachfront gardens
•24-hour security staff
•24-hour doorman & bellman at reception
•Electronic access to all elevators
•Dedicated residents lounge located on the ground floor of South building
Penthouses
•assigned, acclimated private tandem parking garage
•assigned cabana fully-furnished, designed by Joseph Dirand
1 Total Units For Sale - Surf Club Four Seasons Residences - Surfside, FL - 33154
| | | | | | |
| --- | --- | --- | --- | --- | --- |
| Bedrooms | # of Units | Avg. $/SqFt | Avg. Listing Price | Avg. Days on Market | Min Price |
| 4 Bedroom Units | 1 | $4,970 | $22,875,000 | 226 | From $22,875,000 |
Inventory - Surf Club Four Seasons Residences
4 Bedroom Condos In Surf Club Four Seasons Residences - For Sale - (1)
| | | | | | | | |
| --- | --- | --- | --- | --- | --- | --- | --- |
| Details | List Price | Unit # | MLS # | Bed / Bath | Living Area | $/SqFt | Days Listed |
| Details | $22,875,000 | S-1005 | A11225122 | 4 / 5 | 4,602 ft2 | $4970.66 | 226 |