Wynwood in the Boom Zone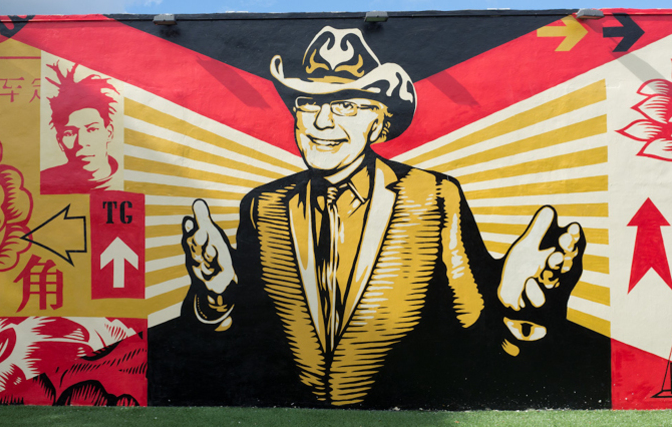 July 28, 2015 - Last week's Miami City Commission unanimous vote to re-zone Grafitti City a.k.a. Wynwood into a mixed-use, residential and retail developer-friendly district is having a domino effect on real estate sales in Miami's "East Village."
With a re-zoning plan spearheaded by Wynwood BID and designed by PlusUrbia, millions of dollars are changing hands as developers jockey to snag prime parcels of this hipster arts village along Tony Goldman Way. Goldman, the maverick New York SoHo developer who championed South Beach's Art Deco District in the late Eighties, did the same for Wynwood in 2010 when his family business, Tony Goldman Properties, opened Wynwood Kitchen & Bar and Joey's Italian Bistro in Miami's dimly lit Fashion District. Today, the streets are alive with millenials cradling coffees at Panther; indie retailers like Aesop and Jugofresh are doing brisk business. Wynwood Walls outdoor museo of urban art is the centerpiece, an inspiring testament to Goldman's artistic entrepreneurial vision and dedication to Miami.
Somewhere Tony's smiling down at The Wynwood Neighborhood Revitalization District, Miami's first NRD. What does this mean in plain English? Here are the new zoning rules, broken down by curbed.com:
1) Almost all of Wynwood is converted from 'Light Industrial' and 'Industrial' to 'General Commercial' with a lining of 'Light Industrial' in the blocks along I-95 and a chunk of 'Medium Density Residential' in the SW corner where Mana Wynwood is located.
2) Financial incentives, including Transfer of Development Rights, are in place to preserve warehouses and incentivize development.
3) Zoning along North Miami Avenue and 29th Street will allow development up to eight stories as-of-right, with an additional four stories in exchange for public benefits. The majority of the rest of the area allows building heights up to five stories with an additional three in exchange for public benefits.
4) The new zoning does allow for development of new one-story buildings.
5) The Wynwood Development Review Board gives local control to approve all large projects.
6) The new zoning promotes affordable small studio apartments (less than 650 square feet) instead of large live-work spaces, with option to pay for a release from parking requirements at $12,000 a pop. This money would then go into the Wynwood Public Benefit Trust Fund and be used to pay for centralized parking.
7) Requires 10-foot minimum width sidewalks.
8) Requires pedestrian paseos (cross-block walkways) for larger projects.
9) Woonerfs!
10) Solid, roll-up doors are banned.
11) Centralized parking facilities, paid for by developers looking for reductions in parking requirements, will encourage pedestrian walkability.
12) Increased housing density from 36 and 65 to a uniform 150 dwelling units per acre.
13) Allows both pure residential or live/work uses, while today only live/work is allowed as-of-right.
14) Incentivizes activated rooftop green spaces, and ground floors
15) Developers can pay into the Wynwood Public Benefit Trust Fund, which pays for open space, for an additional 3 to 4 stories of height or increased lot coverage from 80% to 90%. The trust fund will be used only in Wynwood, for open spaces, public parks, civic spaces, and woonerfs.
16) Facades on new developments will be required to either be wall art or glass.
17) Wynwood-only use categories like art galleries and manufacturing-enabled retail will preserve the character of Wynwood.
Think fast. Get in quick. Art Basel MB 2015 is four months away. Let Streamline help you research, speculate, invest in pre-construction condos for sale or commercial properties for sale in Wynwood. Now you can work and live here. -- Cyn. Zarco